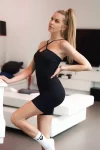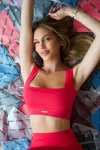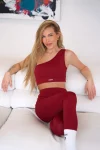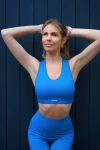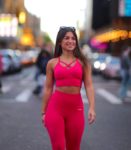 THE PERFECT FUSION BETWEEN
SPORT & FASHION
BABEE est la nouvelle marque française de sport premium, pour femmes, 100% Made In Europe & Éthique, créée par Néomie Azerval, the creator of BABEE to seulement 24 ans.
BABEE est la fusion parfaite entre le fitness et le style, avec des tenues de sport aux détails uniques et sexy, une coupe ultra gainante et une technologie avancée qui assure un excellent maintien.
Notre mission ? Redonner confiance à toutes les femmes, peu importe leur taille, âge ou morphologie, et qu'elles se sentent belles même pendant leur séance de sport !
AN ETHICAL PRODUCTION
100% MADE IN EUROPE
Our products are handmade in a familial factory in Portugal. Expert in textile et certified GOTS (environmentally friendly) and SMETA (ethical), our factory operates since 1995 in Porto.
Offrir une collection de vêtement durable et de qualité supérieure est notre priorité. C'est pour cela que nous avons choisi un tissu haut de gamme 100% Made in Italie et certifié OEKO-TEX® (sans substances nocives). Composée d'Élasthanne et de Polyamide, notre tissu est spécialisé pour le sport : ultra respirant (0 transpiration), confortable, gainant et au séchage rapide.
By offering better quality and more durable products, we encourage you to make more responsible purchases, to reduce together the impact of textile on the environment.

This bra has a good support, a sexy cut while being super conformable, I'm so happy ! The fabric has a great quality, and the raspberry color is gorgeous !
I took 2 BADDIE sets (black and burgundy), the fabric is very comfortable and the colors are perfect. The outfits are suitable for all sports and it's really great! I recommend 🙂
I bought the Player bra in burgundy, I am obsessed 😍 The color is gorgeous, I took my usual size and the support is perfect. The fabric is super confortable, we do not feel the seams ! Now I just have to buy the matching legging to have the whole set !
I bought the legging in pink, I love the color, what I really like is that compared to other leggings it sheaths but without squeezing the belly, and it is much more confortable ! Really do not hesitate, go for it!
High-waisted, shaping leggings without crushing the waist, comfort guaranteed! Perfect with the matching sports bra (or to chill...)!
The bra is just amazing! My cup size is 85C and I picked the S size for the bra. It really makes a difference compared to the bras we usually find, the colors are bright and very opaque!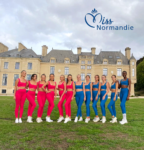 BABEE is proud of its partnership with the regional comity Miss Normandy.
During their preparation for the election, the 12 candidates au titre ont eu le plaisir de porter les vêtements de sport BABEE, tout en couleur !
La gagnante au titre Miss Normandie 2022, Perrine Prunier, élue le 21 Octobre, a eu le plaisir de recevoir une tenue sportswear BABEE en cadeau, qui a été montrée en direct lors de l'élection !
To know more, you can check our page Partnerships.

Retours Gratuits
France Métropolitaine
Sous 14 jours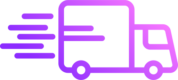 Express Delivery
48H via Colissimo
France Métropolitaine

Secure Payments
Visa, MasterCard, Amex, Paypal
Klarna : 3x sans frais
The press is talking about us

Warning: file_get_contents(): https:// wrapper is disabled in the server configuration by allow_url_fopen=0 in /home/clients/3aff177d2f308f7cb7324e4242b7055f/web/wp-includes/class-wp-image-editor-imagick.php on line 156

Warning: file_get_contents(https://scontent-zrh1-1.xx.fbcdn.net/v/t51.2885-15/257966893_629323958065987_2257374608789100203_n.jpg?_nc_cat=109&ccb=1-7&_nc_sid=7d201b&_nc_ohc=2F4ljXDs2eMAX_TWWcV&_nc_ht=scontent-zrh1-1.xx&edm=AL-3X8kEAAAA&oh=00_AfBX9vCb9gKzWQFYiEV4H-AsmLfeTYgCzmt1K6_ggJk8mA&oe=65786D7D): failed to open stream: no suitable wrapper could be found in /home/clients/3aff177d2f308f7cb7324e4242b7055f/web/wp-includes/class-wp-image-editor-imagick.php on line 156